The Association for Professionals in Infection Control and Epidemiology (APIC), who touts "365 days of commitment" to infection prevention is holding it's International Infection Prevention Week (IIPW). This event is "7 days of focus" every third week of October to raise awareness on the role infection prevention plays to improve patient safety. This is the first year SARAYA has supported IIPW with a social campaign.
The 2017 theme for International Infection Prevention Week is Antibiotic Resistance, and the APIC has made a great choice to voice their event with a memorable character and slogan.
Join your friends, family members, and healthcare professionals in celebrating International Infection Prevention Week (IIPW), October 15-21, 2017!
We're also sharing posters. You can share them any way you want to remind others to think seriously about infection prevention.
Download all our posters here.
Various activities and information are available from the APIC campaign site.
http://professionals.site.apic.org/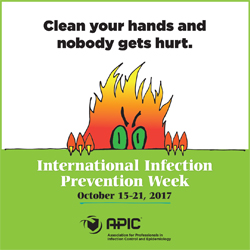 News & Info on Antibiotic Resistance
- The world is running out of antibiotics, WHO report confirms
WHO:- http://www.who.int/medicines/news/2017/world-running-out-antibiotics-WHO-report/en/
- Drug-Resistant Infections: A Threat to Our Economic Future
The World Bank:- http://www.worldbank.org/en/news/infographic/2016/09/18/drug-resistant-infections-a-threat-to-our-economic-future