History is not created through premeditated actions. Rather, it is created by accident from unexpected results.
With that in mind, we are living in a time full of uncertainties. It is an unstable time where we can't predict how society will change in the future. However, if we were to look at ourselves from the future, with global warming, a decrease in biodiversity, an increase in disparity between the rich and poor, and multiplying friction and conflicts within our global society, one could say we are at the crossroads of a new era. There is a great chance that the future will be unlike anything we have ever known—at a "tipping point" of sustainability. We need to put our efforts into passing the world on to the next generation in a sustainable way.
In September 2015, the members of the United Nations (193 countries) adopted the "2030 Agenda", agreeing to eliminate extreme poverty, inequality and injustice over the next 15 years in order to create a better future. With the objective of implementing "Sustainable Development Goals" (SDGs), countries, companies and various organizations are working on an environmental and economic level towards these goals in order to pass a sustainable planet and society to future generations.
In addition to various projects such as maintaining biodiversity by the Borneo Conservation Trust, initiating efforts to improve sanitation in Uganda or participation in greenification of the Sahara desert in Egypt, SARAYA has adopted many SDGs at the core of its business, working towards a sustainable future in the fields of natural products, food hygiene, public health, medical sanitation, and healthy.
To that end, we find it necessary to make a more concentrated effort to tackling sustainability through actions such as product development, businesses, innovation from a Japanese and global perspective.
As Ninomiya Sontoku said, "economics that forget its morals is criminal, but morals that forget economics is nonsense". Together with the six high concepts by Daniel Pink ( Design above function, Story above argument, Symphony above focus, Empathy above logic, Play above Seriousness, and Meaning above accumulation), we are drastically changing our corporate mindset.
Last but not least, I would like to thank our customers, suppliers, and partners. for your guidance, encouragement and patronage.
Director Yusuke Saraya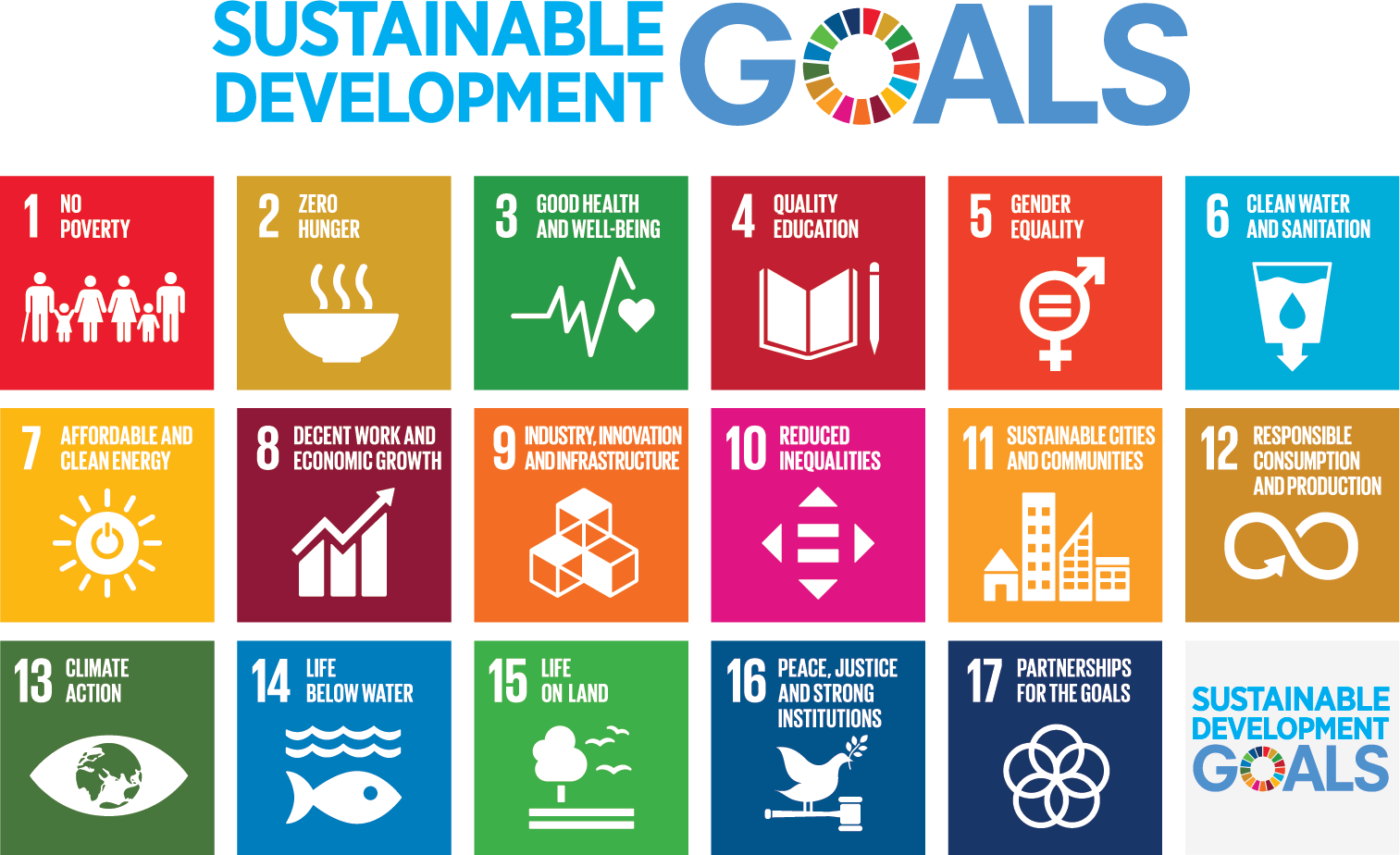 ---
Improvement of sanitation
Contributing to sanitation in developing countries

Around the world, over 16,000 children under five lose their lives every day, many from preventable diseases. Correct handwashing with soap can prevent diarrhea and pneumonia, something that could save as many as 1 million children a year. In Uganda, we promote handwashing education, the prevention of healthcare-associated infections, and projects that reduce maternal and child mortality.
---
Healthcare Hygiene
Confronting the risk of infectious diseases

We are constantly trying to innovate effective ways to prevent healthcare-associated infections. In addition to our flagship hand disinfectants, we have also developed a wide range of products and services, such as Power Quick (medical instrument reprocessing detergent), environmental disinfectants, PPE, and the Steriace 100 hydrogen peroxide gas sterilizer in recent years to combat infectious diseases in healthcare. In addition, we focus a large amount of energy on improving the aging care field by developing amenities, nutrition and sanitation products to assist in care at nursing homes to improve the quality of life for the elderly.
---
Public Hygiene, Food Sanitation
Preventing infections for the public

Shared public spaces such as offices, stations and schools are the most common ways diseases are spread throughout society. Our amenities are designed to keep the public healthy. With years of knowledge on fighting various infectious diseases such as influenza and norovirus, we aim to innovate forward and find ways to improve public health through nutrition and oral hygiene while proactively proposing healthy living through active lifestyles and beauty.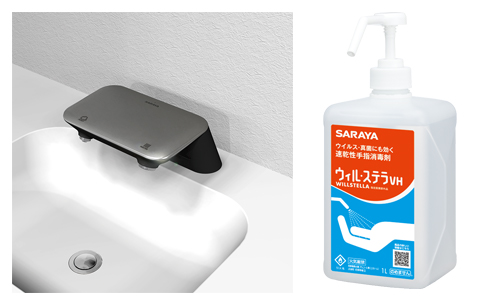 Improving the food value chain
Using the technology behind the SARAYA Rapid Freezer we are working on creating a value chain where agricultural and fishery industries worldwide can improve their distribution and management of fresh ingredients. Together with the development and sale of better detergents, disinfectants, dispensers, sanitary equipment, refrigeration, software related to food hygiene, education and services, we aim to create a healthy, sustainable, effective way of providing food.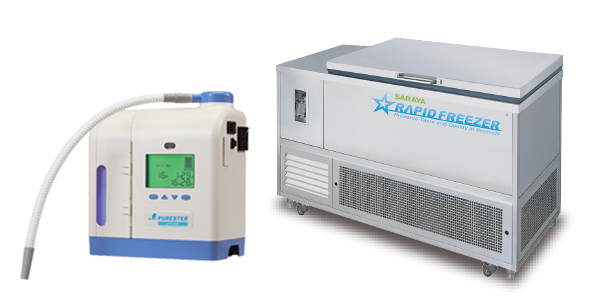 ---
Environmentally Conscious
Sustainable raw materials and conserving global biodiversity

Aiming for the conservation of the global environment, we set countermeasures against climate change and to source sustainable raw materials. We are working closely in Borneo to preserve biodiversity and promote the use of RSPO certified products that use sustainable palm oil. In Egyp, we are conducting research on the greenification of the desert by planting jojoba seedlings in arid regions to extract high-quality jojoba oil for use in our products.

---
Natural Consumer Goods
Delivering safe and natural products

Starting with Shavonet soap in 1956 and followed by Yashinomi detergent in 1971, we have a long history of natural products, and we are currently building on the next-generation of detergents with Happy Elephant. In addition, all our products including Arau natural soaps, Cocopalm body care, Lactoferrin Lab and other cosmetics are all additive-free and safe on the skin.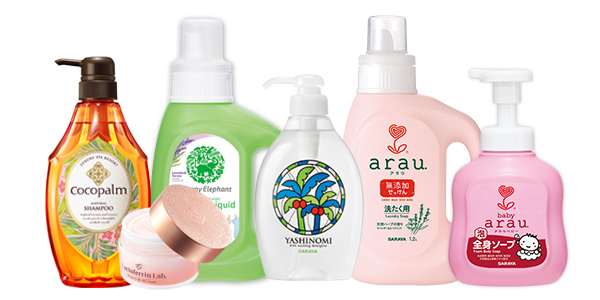 ---
Supporting Health through Foods
From concept to consumer

Our own factory in Guilin, China, allows us to maintain the quality and production of luo han guo (monk fruit) sweetener worldwide. The global market is demanding healthy foods, and our R&D team has been releasing many new healthy choices to nutritious products that suit a variety of diets.

Lakanto Cafe & Dining Lakan-Ka in Tokyo recently opened, providing no sugar added desserts and meals.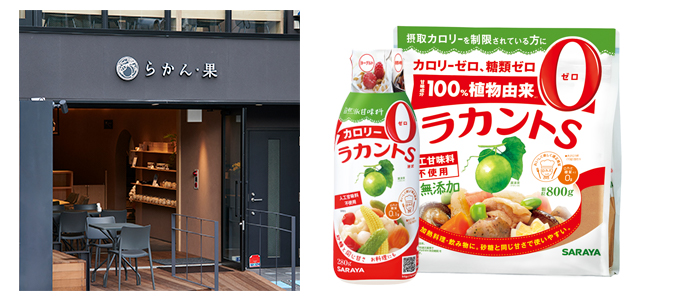 ---
Global Expansion
Responding to the needs of the world.

With currently 26 sales offices in 22 countries and 8 factories in 7, we are striving to meet the diverse needs of the world directly with decades of manufacturing and global supply chain experience.