We are excited to announce the addition of the 7th SARAYA Forest to the Green Corridor Project!
Although the date of acquisition was in March 2018, we have finalized all the procedures and documentation in order to report it publicly.
Certificate of Appreciation

Land acquired on: March 2018

Land name: SARAYA NO 7 Forest

Area: 5,99ha
The Green Corridor Project is an initiative that aims to promote the protection of biodiversity by allowing wildlife to move freely in large areas by connecting divided forests along the riverbanks. SARAYA has been working since 2007 with the Borneo Conservation Trust (BCT) along the Kinabatang River in Sabah, Malaysia, trying to secure at least 20,000 hectares.
About the acquired site and its surrounding environment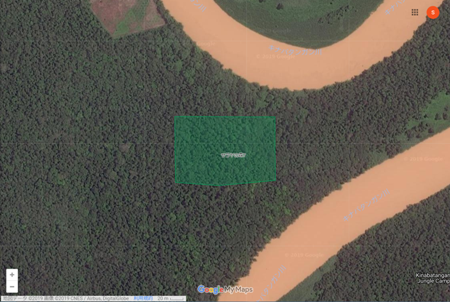 This time the acquired land compromises 5.99ha, a little bit more than 227 tennis courts. On the edge of Lot 7, of a small village is slowly but steadily increasing its plantations, sacrificing forests vital for the crossing of elephants and other fauna. The purchase of this area, and the future surrounding forests is going to be vital to ensuring the elephants and orang-utans have an unobstructed path to surrounding conservation sanctuaries.
SARAYA will keep collaborating with the Borneo Conservation Trust in order to complete the Green Corridor Project and save the Borneo forest and its biodiversity from extinction.