SARAYA Receives the Biodiversity Report Special Excellence Award at the 22nd Environmental Communications Awards
Held on the 20th of February at the Shinagawa Prince Hotel, Tokyo, the Environmental Communications Awards was an event where excellent environmental communications were awarded, in order to promote environmental responsibility in private corporations and the diffusion of its results. Co-hosted between the Japanese Minister of Environment and the Global Environmental Forum (GEF), SARAYA was one of the few winners in 2019 from 196 applications.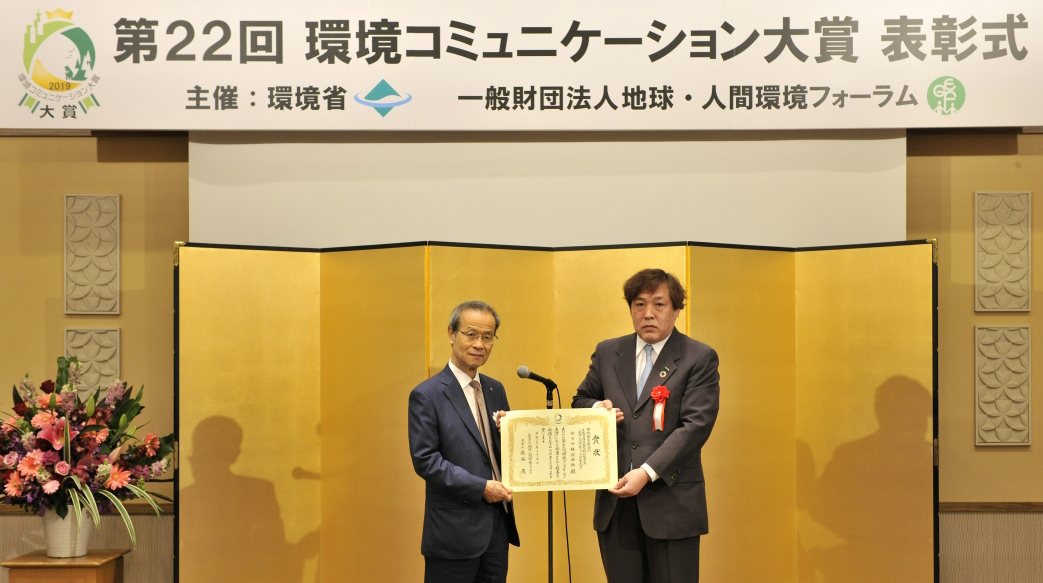 Tokyo SARAYA President Shuji Saraya receiving the certificate of commendation.
Named the "Biodiversity Report Special Excellence Award", it was the first time in four years (since 2015) that it has been awarded, a streak that SARAYA feels proud to break. The following awards were won by the corresponding organizations:
Environmental Report Grand Prize – Toyota Motors Corporation
Sustainability Report Grand Prize – Ajinomoto Co., Ltd
Global Warming Countermeasure Report Grand Prize – AEON Co., Ltd
Environmental Report Excellent Award – Kirin Holdings Co., Ltd. /Daiwa House Industry Co., Ltd.
Global Warming Countermeasure Report Excellence Award – Hitachi, Ltd.
Biodiversity Report Special Excellence Award – SARAYA Co., Ltd.
Reliability Report Special Excellence Award – Taiheiyo Cement Co., Ltd.
Our goal in the years to come is to achieve the 3 different Grand Prizes that are awarded every year. We will continue to ask for support to help improve our sustainability and environmental efforts in the future.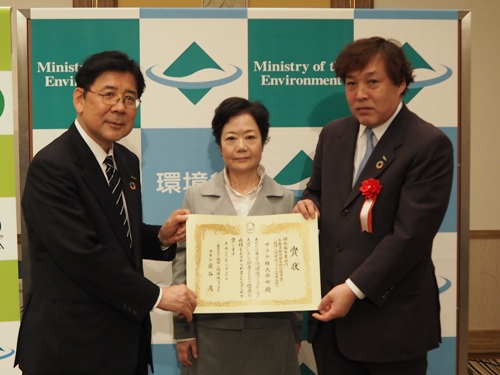 From left to right, Special Advisor Mr. Ando, Mrs. Takahashi, responsible for the production and editing of sustainability reports from Human Resources Headquarters, and Mr. Saraya.
Saraya Sustainability report 2018
Global Environmental Forum website